http://www.cluas.com/indie-music/Blogs/ ... night.aspx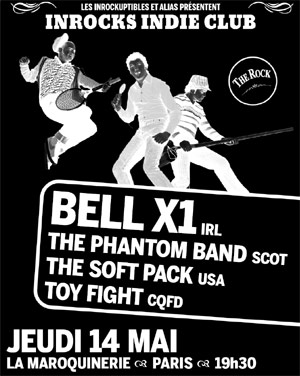 A high-profile headline slot at the Maroquinerie tonight, a prominent billing at Benicassim - the Kildare lads are slowly conquering France and the rest of mainland Europe.
Okay, so we might not have fancied their most recent album. But in the spirit of 'G'wan Oirland' and all that, we're pleased to report that Bell X1 are playing a high-profile Paris show tonight (14 May), one that's bound to win them great exposure and interest among French music fans.
For the last concert on their current continental tour, the Kildare band are headlining the latest edition of Les Inrocks Indie Club, the regular band night hosted by Les Inrockuptibles, France's best selling and most respected music and culture magazine. The show takes place at La Maroquinerie, one of the best-known rock venues in Paris, and the line-up is completed by The Phantom Band, The Soft Pack (that fine Californian band formerly known as The Muslims) and local hopefuls Toy Fight.
You being fairly sharp, you'll have noticed that the nationalities of the acts are given on the poster (right). G'wan Oirland!
One of the added benefits of headlining a show organized by a top-selling music magazine is that said top-selling music magazine invariably gives you plenty of glowing publicity and blurb and what have you. Thus Les Inrockuptibles have called 'Blue Lights On The Runway' "glacial et lancinant" – icy and piercing. ('Lancinant' is also the word in French to describe a sudden, shooting pain such as your correspondent's recent running injuries.) We don't see what they mean (unless they mean 'painful'), but that's the sort of language you find in French music reviews.
The band supported Nada Surf in France last year, but it seems their second-fiddle days are behind them now. With tonight's high-profile Paris show and a Benicassim appearance to come, Bell X1 are really making a go of things here on the continent and perhaps they might return to Eire all inspired and creatively reinvigorated. Good luck to them.